FULL OF IDEAS
Based on simple or elaborated specifications, our specialists design solutions that meet the aesthetic expectations and technical requirements expressed by our customers.
IMAGES FOR THE EYES
Our mastery of Computer Aided Drawing allows us to generate particularly realistic simulations, which allow decision-makers to visualise future realisations and to intervene already in the design stage.
COMPLETE SOLUTIONS
Our designers do not limit their study to the basic components. They consider the entire concept and provide global solutions that integrate the problem of fixation.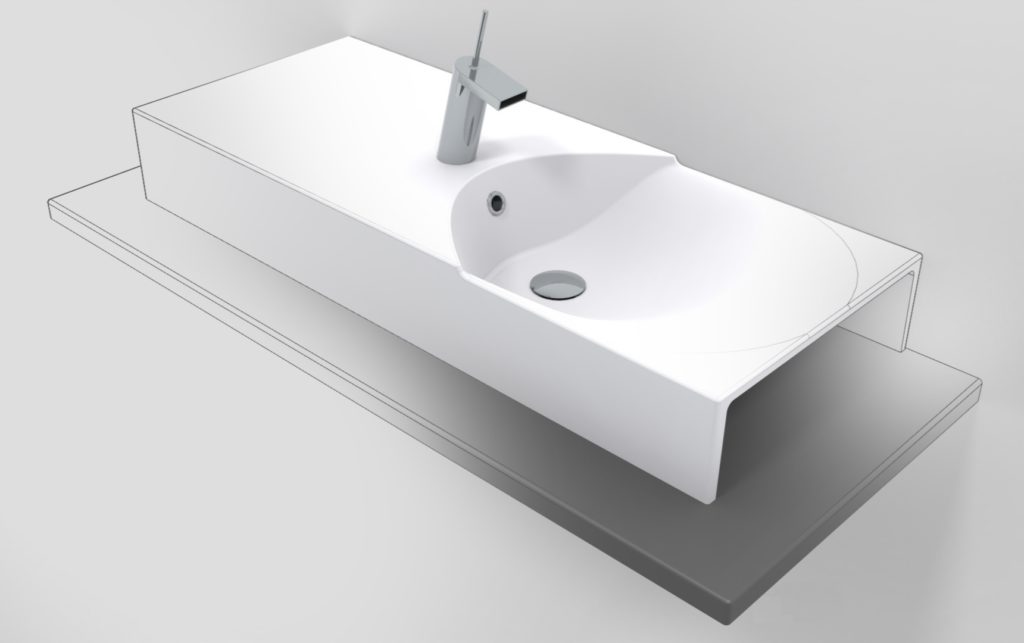 QUALITY MATERIALS
The raw materials used in manufacturing our washbasins and shower trays have been selected following accelerated ageing tests. Implemented according to a carefully elaborated manufacturing process tested over a long period, they give our products exceptional durability, as well as excellent mechanical and chemical resistance. Our materials have been tested to the highest national and international standards. They stand the test of time: many of our washbasin tables have been in service for over 20 years.
CONTROLLED PROCESSES
All our washbasins and shower trays are entirely produced in our factory in Belgium, where we have invested heavily in new technologies: our design office has the most advanced computer-aided design software, and our workshop is equipped with several high-performance digital machining installations. Our know-how in design, manufacturing and finishing gives our components the following features: impeccable rendering, great durability and easy maintenance (no joints).
QUALIFIED PARTNERS
Each person has his own speciality. We therefore entrust the manufacture of the sanitary accessories that we offer to trusted partners selected for their reliability and responsiveness, with whom we establish extremely stringent quality standards.
INTEGRATED SERVICE
We offer an integrated service that goes from the design of parts to their delivery on site by lorry or shipping containers. We therefore have the flexibility and responsiveness required to provide a quick, efficient, sustainable, aesthetic and economical solution to the needs expressed by our customers.
LOCAL PARTNERS
Our suppliers and subcontractors are true partners. They are often located in the immediate vicinity of our factory, thereby contributing to our responsiveness.
A CENTRALISED LOCATION
Our location in the heart of Europe, between France, Luxembourg, Germany and the Netherlands, enables us to transport our products throughout Europe quickly and inexpensively.